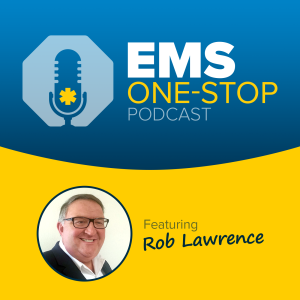 Thursday Nov 17, 2022
Kris Kaull: Think like a detective
This episode of EMS One-Stop with Rob Lawrence is brought to you by Lexipol, the experts in policy, training, wellness support and grants assistance for first responders and government leaders. To learn more, visit lexipol.com. 
Fresh back from Montana's Big Sky EMS Symposium, in this episode of EMS One-Stop, Host Rob Lawrence chats with Kris Kaull on his history-taking session. They discuss Kaull's 10 top hacks to improve your history taking, including:
Thinking like a detective
Thinking outside the box
Understanding medical medicine
Being a good listener
Kaull has driven innovation and positive change in EMS for over 25 years. After beginning his career as a firefighter and EMT, he started paramedic.com and co-founded EMS1. He is currently the chief marketing officer at Pulsara, a healthcare and mobile tech startup. He has worked as a firefighter captain, paramedic and ambulance service director, and continues his practice as a critical care flight paramedic covering southwest rural MT and Yellowstone National Park.
Kaull has shared his presentation and notes here.