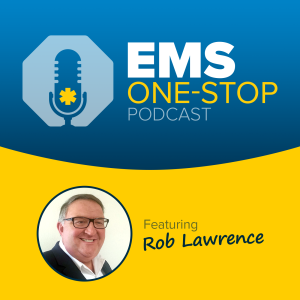 Tuesday Apr 25, 2023
Doug Wolfberg: What the end of the Public Health Emergency means for EMS
This episode of EMS One-Stop With Rob Lawrence is brought to you by Lexipol, the experts in policy, training, wellness support and grants assistance for first responders and government leaders. To learn more, visit lexipol.com.
COVID-19 was declared a Public Health Emergency (PHE) on Jan. 31, 2020, and was extended a number of times, but it is now set to expire on May 11, 2023. In this episode of EMS One-Stop, Rob Lawrence is joined by Doug Wolfberg, Esq., of Page, Wolfberg & Wirth to discuss the immediate actions organizations should take (or should have already taken) to preserve documentation relating to the PHE, as well as adjust operational and documentation practices and procedures as we "return to normal."
Rob and Doug discuss issues such as rule changes that have become normal operating procedures over the last 2 years and the need to build a time capsule to preserve evidence. They also cover patient signatures, telehealth changes, transport to alternate destinations, agency licensing and Physician Certification Statements.
Doug, a lifelong Beatles music fan, also shares that he has just published a book: "The Beatles: Fab but True: Remarkable Stories Revealed" and will be undertaking a book signing tour in the UK later in the year.
TOP QUOTES FROM THIS EPISODE
At the end of the PHE, "We revert back to the standard inflexible Medicare signature rules which means that the patient needs to be the signer, and the only time that you can get a signature from anyone else is if that patient is physically or mentally incapable of signing that statement."
EPISODE CONTENTS
1:12 – End of the PHE announced
2:00 – Rule changes have become normal operating procedures
2:20 – The need to build a time capsule to preserve evidence
4:30 – Big change ticket item number one – patient signatures
6:40 – A reminder to establish the reason the patient is unable to sign a PCR
7:20 – Telehealth changes                                                
10:00 – Transport to alternative destination coverage ends (but place your pandemic local clinical guidance in your time capsule now!)
13:07 – ET3 – not affected and is separate
15:24 – Doug and the Beatles
17:52 – Ambulance staffing waver also going away
18:55 – Agency licensing back into full force – no more grace periods
21:12 – Physician Certification Statements (PCS) – do not cut corners on your PCS signatures
22:15 – Leaders pay attention to this podcast
ADDITIONAL RESOURCES ON THIS TOPIC
ABOUT OUR GUEST
Doug Wolfberg is a founding partner of Page, Wolfberg & Wirth, and one of the best-known EMS attorneys and consultants in the United States. Widely regarded as the nation's leading EMS law firm, PWW represents private, public and non-profit EMS organizations, as well as billing companies, software manufacturers and others that serve the nation's ambulance industry. Doug answered his first ambulance call in 1978 and has been involved in EMS ever since. Doug became an EMT at age 16, and worked as an EMS provider in numerous volunteer and paid systems over the decades. Doug also served as an EMS educator and instructor for many years.
After earning his undergraduate degree in Health Planning and Administration from Pennsylvania State University in 1987, Doug went to work as a county EMS director. He then became the director of a three-county regional EMS agency based in Williamsport, Pennsylvania. He then moved on to work for several years on the staff of the state EMS council. In 1993, Doug went to the nation's capital to work at the United States Department of Health and Human Services, where he worked on federal EMS and trauma care issues. Doug left HHS to attend law school, and in 1996 graduated magna cum laude from Widener University School of Law. After practicing for several years as a litigator and healthcare attorney in a large Philadelphia-based law firm, Doug co-founded PWW in 2000 along with Steve Wirth and the late James O. Page. As an attorney, Doug is a member of the Pennsylvania and New York Bar Associations, and is admitted to practice before the United States Supreme Court as well as numerous Federal and state courts. He also teaches EMS law at the University of Pittsburgh, and teaches health law at the Widener University School of Law, where he is also a member of the school's Board of Overseers.
Doug is a known as an engaging and humorous public speaker at EMS conferences throughout the United States. He is also a prolific author, having written books, articles and columns in many of the industry's leading publications, and has been interviewed by national media outlets including National Public Radio and the Wall Street Journal on EMS issues. Doug is a Certified Ambulance Coder (CAC) and a founder of the National Academy of Ambulance Coding (NAAC). Doug also served as a commissioner of the Commission on Accreditation of Ambulance Services (CAAS).
In his free time, Doug is an avid bicyclist and musician.
CONNECT WITH OUR GUEST
Website: www.pwwemslaw.com
Email: www.pwwemslaw.com/contact#
Linkedin: www.linkedin.com/in/douglas-wolfberg-099ab236
RATE AND REVIEW THE EMS ONE-STOP PODCAST
Enjoying the show? Please take a moment to rate and review us on Apple Podcasts. Contact the EMS One-Stop team at editor@EMS1.com to share ideas, suggestions and feedback.